Our firm's activities extend to many areas of law, with a special emphasis on: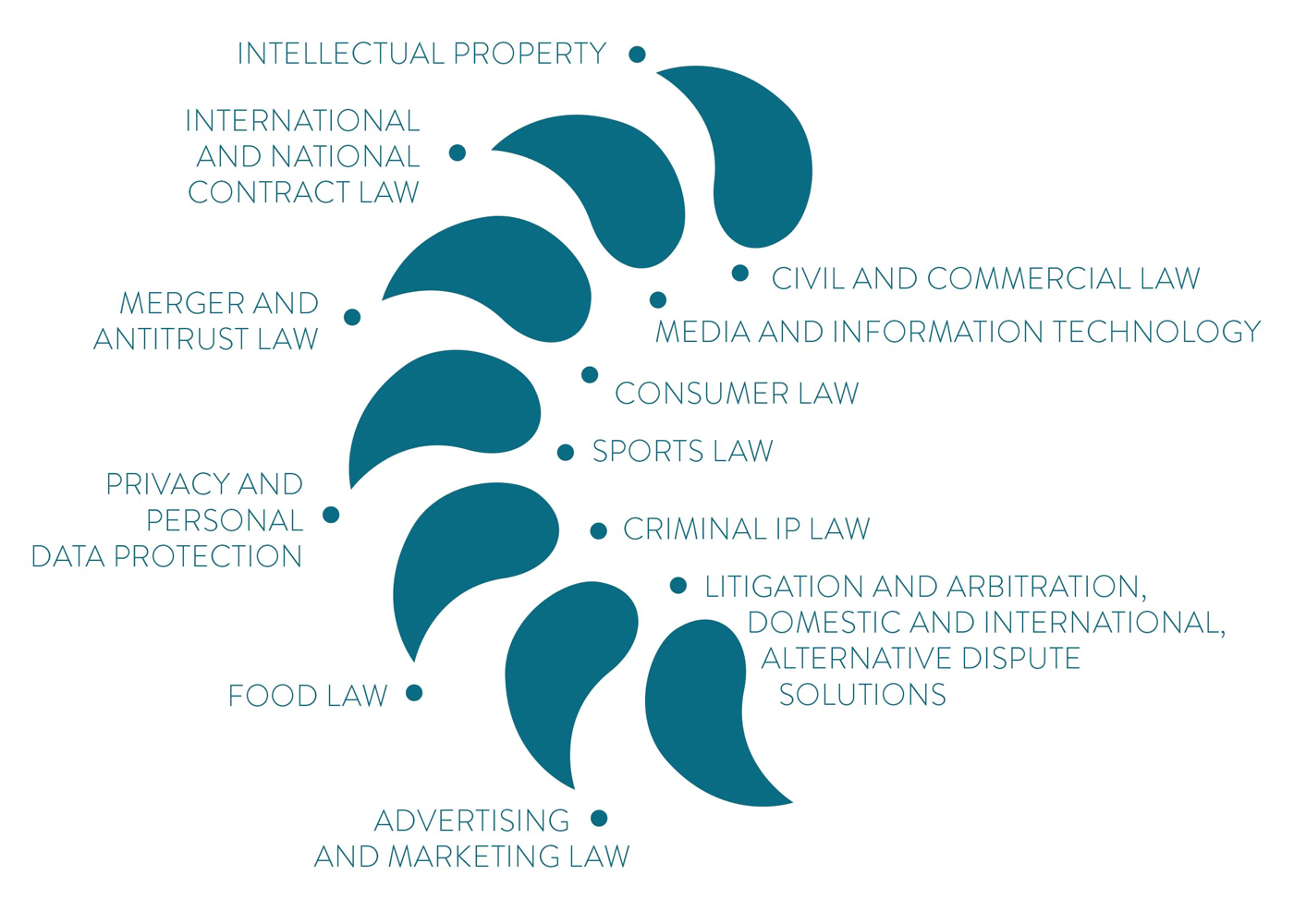 COMPANY TRADEMARKS AND DISTINCTIVE MARKS

Our specific expertise in the trademark industry, spanning over a decade, goes from the initial advice on brand strategy to legal protection and the marketing of trademark rights.
DESIGNATIONS OF ORIGIN AND GEOGRAPHICAL INDICATIONS
We work for the protection of designations of origin and geographical indications, especially in the wine, cheese and olive oil sectors. We also strive to protect the so-called "made in Italy", a topic of great interest for Italian companies, especially in the light of the numerous court cases and recent legislative measures in that regard.
MODELS AND DESIGN
We can boast wide-ranging expertise on the subject of registered and unregistered designs. We provide assistance to companies both in obtaining patent rights, and in relation to their legal protection and marketing.
PATENTS AND UTILITY MODELS
We deal with the legal protection of patents in civil and criminal matters and provide advice in relation to their exploitation and marketing. In the field of patents, our professionals have gained specific knowledge and skills in the following areas: mechanics, electronics, chemistry, biochemistry, biotechnology, pharmaceuticals.
COPYRIGHT
Our professionals have developed specific expertise in the areas of film, publishing and iconography in general. We provide consulting services and legal protection to the film industry (producers, distributors, financial backers) and the authors of the works. We handle the drafting of contracts related to the publishing sector and lend advice to authors in liaising with the SIAE (Italian Authors and Publishers' Society), in the protection of authorship and property and non-property rights.
FOOD LAW
Our experience in the area of food law, which cuts across multiple disciplines, allows us to offer protection to companies and institutions operating in the manufacturing and distribution of food products.
ANTITRUST AND COMPETITION LAW
We offer our expertise in the field of competition between undertakings. To that end, we handle cases concerning unlawful competitive practices, agreements restricting competition and abuse of dominant position, also acting before the Italian and European antitrust authority, as well as before the AGCM (Italian Competition Authority).
ADVERTISING LAW
We deal with advertising protection matters, by working with advertising agencies and providing advice on the legality of their messages. Our professionals also provide their assistance in proceedings before the Advertising Standards Board and the AGCM.
NATIONAL AND INTERNATIONAL CORPORATE CONTRACTS
We provide our clients with qualified expertise in the drafting and negotiation of corporate contracts, including at the international level.
CIVIL LAW
We deal with civil law matters in general, providing entrepreneurs with legal advice and judicial assistance in relation to all the issues in which they are involved, including individual rights, family law, property rights, typical and atypical contracts, successions.
TRADE AND CORPORATE LAW
We provide assistance and advice in relation to all aspects of company law (partnerships and corporations), whether Italian or foreign, with reference both to the current management of the company and to corporate governance issues. We guide our clients step by step through the establishment of joint ventures and the completion of Mergers and Acquisitions. We work with qualified accountants with vast experience in the corporate tax sector.
SPORTS LAW
We defend the rights of our clients in relations with Italian and foreign sports authorities, in disputes before the competent authorities as well as in the negotiation and drafting of contracts with athletes, sponsorships, naming rights, etc.
CRIMINAL INDUSTRIAL LAW
We provide advice and legal assistance in criminal industrial law. We deal with disputes concerning the criminal and customs protection of trademarks and patents, made in Italy, trade secrets, know-how, copyright and design.